N.C. A&T State University Small Farms Week Registration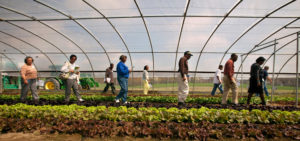 The 33rd Annual Small Farms Week is March 24–30, 2019. The event kicks off on March 25 in Duplin County, home of the 2018 Small Farmer of the Year.
Small Farms Week, North Carolina Agricultural and Technical State University's annual tribute to small-scale agriculture, kicks off March 25 with the theme "Deep Roots, Bright Future."
Small farms make a major contribution to the state's $84 billion agriculture industry, but that's not all. They support public health by providing fresh, local food, and they help protect the environment through their careful stewardship of natural resources.
The Small Farmer's Appreciation Luncheon is Wednesday, March 27 and will be at the Alumni Events Center. During this event, the 2019 Small Farmer of the Year will be named.
Registration is now open!! Registration is $30; however, this fee is waived for NC small farmers.